Men want to look and feel their best just as much as women. They also deserve to use products that not only perform and smell great but also are healthy and toxin free.
Young Living has created a special blend of high quality essential oils called Shutran, which work to promote individual empowerment and confidence when applied topically or diffused.  Young Living has further created a line of men's products utilizing this unique essential oil blend.  It is a lucky man that can use the Shutran line of products.  They will give him confidence while leaving his skin nourished, his hair full, and his facial hair soft and shiny.  In addition to all of these benefits, the products are toxin free and physically enriching while providing an enticing, masculine aroma.
The line of Young Living's Shutran products are all powered with the Shutran essential oil blend. 
The Shutran blend ingredients are as follows:
Picea pungens† (Idaho Blue spruce) branch/leaf/wood oil – This oil has a high percentage of alpha-pinene and limonene. The alpha-pinene has been used to enhance spiritual connection and awareness. Limonene is found in many citrus fruits and in addition to its fresh, clean scent it is also a natural immune booster, antioxidant and may help to reduce anxiety.
Ocotea quixos† (Ocotea) leaf oil – This is perhaps a lesser known essential oil but that should not ne the case. Ocotea essential oil has a whole host of health benefits. It is wonderful for the skin to help with conditions such as psoriasis and acne. When massaged with a carrier oil on the scalp, it promotes hair follicle health to give full, healthy hair. Ocotea oil may also help with anxiety, stress, and depression.
Cananga odorata† (Ylang ylang) Flower oil – Pronounced EE-lang EE-lang, Ylang Ylang has grown in popularity recently. This is no surprise as its benefits are many. It is great on the skin to help with seborrheic eczema and to reduce the appearance of blemishes. It has a lovely floral scent making it work great as a perfume for women and as a middle note in men's cologne. It might be most recognized for its aphrodisiac qualities. It can help with a decreased libido and frigidity which can occur due to increased workload, stress, and depression.
Chamaecyparis obtusa† (Hinoki) oil – This oil comes from the Hinoki tree, which is a type of cypress, found only in Japan. It is considered a sacred tree and its oil is used extensively throughout Japan in shrines and temples. It has a pine-like scent with hints of lemon citrus. It can reduce stress and reduce tension while also working to improve respiratory issues such as congestion and asthma.
Coriandrum sativum† (Coriander) seed oil – Most people are familiar with coriander seeds as a spice for cooking. The essential oil is derived from the seeds and it is power packed with health benefits. The oil has a sweet, warm, spicy scent, which is partially why it works so great as a natural deodorant both internally and externally. It also boosts libido and helps with weight loss though lipolysis, which is the breakdown of fats.
Artemisia pallens† (Davana) Flower oil – Davana essential oil has a sweet, fruity, herbaceous scent that can transform when applied topically as it combines with the individual's unique chemistry. It has been medicinal benefits. It can work as an antiviral to help speed healing from common colds and the flu. It is a natural relaxant working both on the mind and the body to improve anxiety and remedy cramps. It also has been shown useful as an emmenagogue helping to regulate the menstrual cycle and reduce cramping and discomfort associated with menstration.
Lavandula angustifolia† (Lavender) oil – Truly a "jack of all trades", lavender oil whole body benefits. It makes the skin soft, smooth, and supple when applied topically. It is also well known for its ability to promote relaxation and quality sleep. The smell is widely known for its slightly sweet calming aroma which is associated with it calming effects. Lavender essential oil is also a great wound healer and does a wonderful job treating and healing minor burns.
Cedrus atlantica† (Cedarwood) bark oil – This essential oil has a subtle woodsy scent which blends nicely with many other scents. It has been shown to stimulate hair follicles promoting healthy hair growth. It is also well known as a sleep aid helping to encourage a full night of quality sleep. Cedarwood essential oil can also aid in reducing congestion and improving breathing when diffused.
Citrus limon† (Lemon) peel oil – Lemon essential oil is easily recognized for its bright, invigorating scent. It is able to boost the mood and increase concentration. It works great as a cleaner to remove grease and polish wood. It also can refresh the skin and hair. Lemon essential oil is also a natural bug repellant.
Picea mariana† (Northern Lights Black spruce) leaf oil – This essential oil has a fresh, piney scent similar to a fresh cut Christmas tree. As such, this oil is very grounding to the mind and spirit. It helps to regain mental and spiritual focus. It also works to improve breathing and respiration.
All of these essential oils are a part of every single item in the Shutran line of products.  They all boast the seed to seal quality that Young Living is known for.  This means the oils have been painstakingly tested and retested for the utmost purity so you will be able to experience the truest essence of each of these amazing oils every single time.
Shutran Beard Oil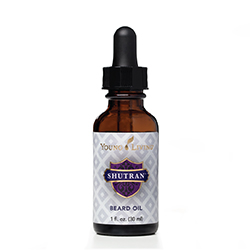 Shutran 3-in-1 Wash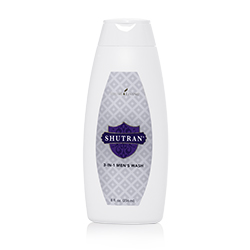 Shutran Aftershave Lotion
Shutran Bar Soap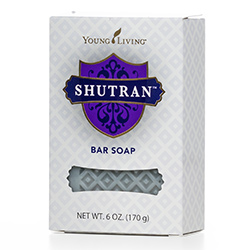 Shutran Shave Cream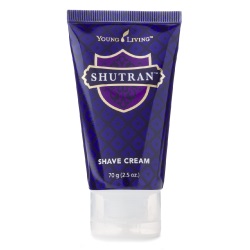 Shutran Essential Oil